description
introduction
Voyager is a Kontakt sound library* based on the sounds of the famous Minimoog Voyager synthesizer.
VOYAGER Kontakt edition provides vivid, dynamic and rich-sounding real analogue leads, bass, polyphonic keys and pads, giving you a new powerful synth in your sampler.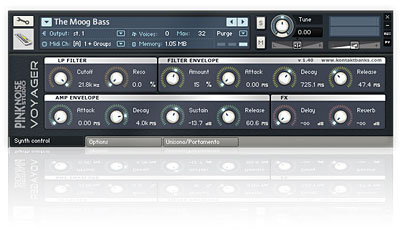 Features:
• 385 Kontakt patches (in 7 categories: All layers, Arp & Sequence, Bass & Lead (poly), Experimental & FX, Key & PolySynth, Monosynth,
Pad & Atmosphere)
• 1.77 GB of 44kHz/24 bit samples (2429 wav files)
• 12 midi controllable knobs for realtime tweaking and for midi automation of the most important synth parameters
• extensive editing techniques: multiple velocity layers, alternate triggering and sample starts to achieve fat, lively and vivid synth sounds
* please note: our Kontakt banks require the full retail version of Kontakt 3.5 (or more recent version), they are not compatible with the free Kontakt Player. Voyager is available in Reason refill format as well.

Midi implementation
The following simplified MIDI implementation chart is designed as a quick reference guide that allows you to identify at a glance which MIDI control change (CC) messages are implemented by Voyager in Kontakt.
CC 07

CC 10

CC 14

CC 15

CC 16

CC 18

CC 71

CC 72

CC 73

CC 74

CC 75

CC 76

CC 91

CC 94

channel volume

channel pan

attack time of the filter envelope

decay time of the filter envelope

release time of the filter envelope

filter envelope amount

resonance of the internal LP filter

release time of the amplitude envelope.

attack time of the amplitude envelope

cutoff frequency of the internal LP filter

decay time of the amplitude envelope

sustain level of the amplitude envelope

adjusts the amount of the insert FX (delay)

adjusts the send level of the send FX (reverb)
In addition, in most cases: modwheel (CC 01) controls the filter modulations, aftertouch adds vibrato effect.

about the Minimoog
The Minimoog Voyager is a true analog monophonic synthesizer (probably the most expensive one of its kind) and is based entirely on the original classic Minimoog Model D, which was on the production line of Moog Music, Inc. from 1970 to 1982. It's cased in a beautiful, solid hardwood cabinet with a multi-position hinged control panel.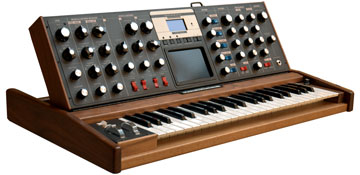 Just like the original, the Voyager has three analog wide-range voltage controlled oscillators, one noise source, as well as one audio preamplifier for externally-applied audio signals.
Two resonant Moog-style filters are on-board and function in dual lowpass or lowpass/highpass modes and can be modulated by one of the two ADSR envelopes, the LFO, or external control.
Minimoog Voyager is a first class synth; every bit as elegant in look as sound and quality. It is highly streamlined and offers all the functionalities of a modern day (mono)synth with the classic, warm, unforgettable Moog sound.
source: vintage synth explorer

next

demo